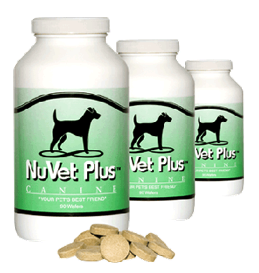 All our Golden Retriever pups and adults are supplemented daily with NuVet Plus! We want every one of our puppies to start out with a healthy immune system and once they go to their forever homes, we suggest that you keep them on the supplements daily. For .52 cents per day, you can help ensure that you are giving your puppy the nutritional therapy to fight the weakening of cell membranes that lead to cell mutation or premature death of the cell which in turn, leads to allergies, skin & coat problems, low energy, digestive problems, arthritis, cataracts, tumors, heart & vessel disease and cancer.


NuVet Plus Canine Health Supplements is a precise combination of human grade, natural vitamins, minerals, herbs, antioxidants, bioflavonoids, fatty acids and amino acids proven to combat the ravages of free radicals and to provide immune system support. Puppies to senior dogs should start on the path of disease protection today!


Free radicals have been implicated in more than 50 health problems in humans and animals including various forms of cancer, allergies, skin & coat problems, arthritis, heart disease, cataracts, premature aging, tumors, reproductive difficulties, digestive problems and low energy.


NuVet Plus not only helps to dramatically combat the onslaught of free radical activity, but it also creates a powerful synergistic boost to the animal's immune system.


NuVet Plus heals and protects the ravages of free radicals that attack your pet throughout it's life.


NuVet Labs main purpose is to increase your pet's longevity and quality of life. Scientifically formulated to provide everything your pet needs for perfect health!


Affordable, natural, water soluble. NO sugars or fillers. Real chicken Liver, no cooked, but paddle dried by our patented process to preserve our Omega Fatty Acids.


Not heat treated, heat destroys Vitamin A, E & B1. And, that's why NuVet Wafers crumble so easily. So pure, it's produced in a FDA (human grade) manufacturing facility, virtually unheard of in the pet industry because of the cost/monitoring required.


Call now and order this product. If this isn't the most incredible pet supplement you've ever had, we'll give you your money back!





Bottle of 90 wafers, dosage is 1 wafer per day for dogs 5lbs and over. 1/2 wafer if under 5lbs. No sugars or fillers.


Call 800-474-7044. ID Code 38312. NOTE: This product is not available to the general public without an Order Code: 38312! Not available in stores! CALL NOW TO ORDER!! OR visit www.nuvet.com/38312.


Feel free to call 269-317-2156 if you have any questions for us about this wonderful product!